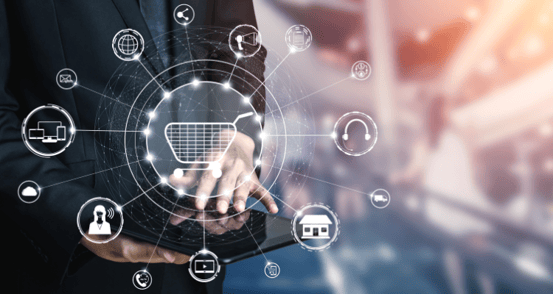 How many years will we have to talk about how the pandemic changed the world of commerce? Probably forever. Commerce was already experiencing a shift because of the internet and the prolific adoption of smartphones. Those scenarios are also now coupled with the rise of younger, more digitally savvy generations. But the pandemic gave it all a swift kick in the you-know-what.
Retail, both online and in-store, altered their focus and priorities as a direct result of the changes in consumer behavior. Changes that have now become the norm for most consumers.
Consumer shopping behavior has changed drastically in the last several years, largely due to the adoption of mobile smart devices. They have really become an extension of us and our daily interactions. And they've completely changed the way we shop.
Now, we use our smartphones to shop even while we are shopping in a brick and mortar store. 82% of shoppers say they turn to their phones to look up and research information about a product they're about to buy in-store.
But we also buy online now more than ever before. And consumers tend to use more than one device even during a single purchase. A survey by Think With Google showed that 6 out 10 shoppers begin shopping on one device, but complete the purchase on another.
We're shopping online, through our mobile devices, and most recently we shop through apps. In fact, mobile devices account for 34% of online retail purchases.
What does this all mean for both retail and eCommerce merchants?
In an effort to constantly improve the customer experience, merchants continue to adapt to their demands. Merchants create avenues for customers to engage with them in multiple ways and through multiple channels. This has led to a seamless and satisfying Omni Channel experience for customers.
But how can you, the merchant, tie it all together to benefit your company as well as your customer? That's where Unified Commerce comes into play.
Retailers, both in store and online, employ a myriad of platforms and systems to run business efficiently. Front facing systems include your e-commerce site, mobile channels, social media, payment gateway, and POS systems. On the back end, you're running CRM, inventory and supply change management software. And you'll have your customer service, fulfillment processes and refund and return systems.
But these systems and platforms haven't always communicated with each other. Unified Commerce aims to remedy that.
What is Unified Commerce?
Retailers work to create an omni commerce presence providing a more seamless experience for their customers to engage with them across multiple channels. But the information from each of those channels stays largely separated.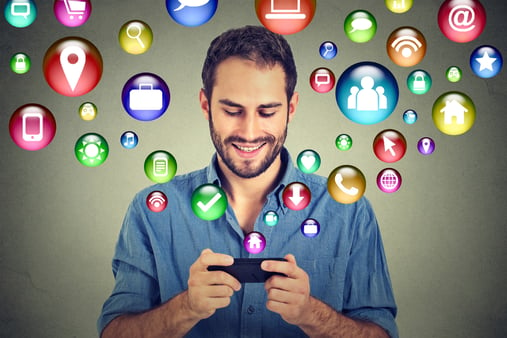 Unified commerce brings all that information together in a centralized location where it is more actionable.
Boston Retail Partners (BRP), a retail consulting firm, describes Unified Commerce as leveraging a single, centralized, real-time platform to support all customer engagement points. This platform interconnects all channels and systems for the retailer.
In other words, the front facing systems and the back facing protocols are able to communicate with each other. They can share information and data that can help create a better experience and provide actionable insights.
Omni commerce allows merchants to be present whenever and wherever their customer needs them.
Unified Commerce brings it all together in one seamless and actionable experience for both the customer and the business. It goes beyond Omni Commerce, eliminating the walls between internal channel silos.
The future of retail resides in Unified Commerce.
In 2018, Boston Retail Partners conducted a survey to gauge the ever evolving customer expectation along with the outlook of the retail model.
The 2018 POS/Customer Engagement Benchmarking Survey identified the top three priorities for retailers:
Customer identification/more personalized customer experience (62%)
Harmonize the customer experience across mobile apps and the web (54%)
Empowering associates with mobile devices for POS (51%).
In 2018, 81% of retailers planned to integrate Unified Commerce Platforms by the end of 2020.
That was in 2018, when things were rolling along smoothly and before we were thrust into an expanded digital retail experience by a global pandemic.
2020 may have been lost to the challenges of the COVID-19 pandemic, but the need for a unified multi-channel experience was only amplified.
This digital retail experience has changed customer expectations. Retail must shift their focus to providing the same type of customer experience across all channels.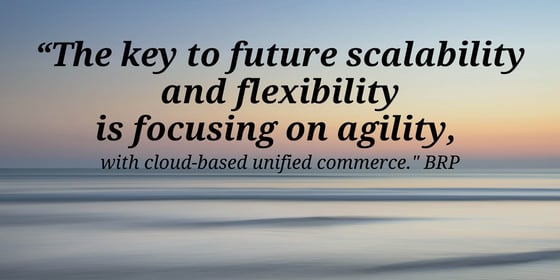 Customers are used to enjoying personalized offers and recommendations when shopping online. But how do they get that in-store?
If a business's applications are siloed, they have no way to see key connections in the data. This makes personalization difficult. Unified Commerce allows retailers to build a 360 degree view of the customer and access it from a centralized system. Creating Unified Commerce allows merchants to bring personalization to the next level.
Unified Commerce allows for interaction between eCommerce, mCommerce customer data, buying history and customer relationship management. It gives you a real-time picture of inventory and management systems. And it reveals all customer interactions with your business, all from one location.
Unified commerce also provides a seamless shopping experience for customers. They are able to access a single shopping cart online, on their mobile device, on an app, or in store. By having a centralized dashboard that unifies customer data and information from all channels, merchants can create a seamless CX in store. And everywhere.
Unified Commerce is further empowered by dynamic Business Intelligence Reporting Tools.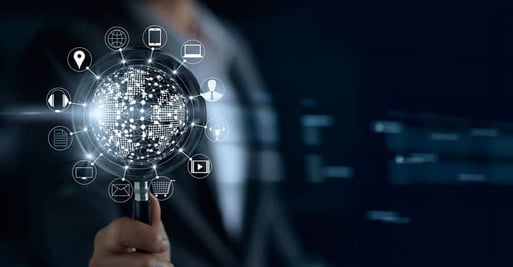 There are many benefits to having unified access to all business processes and information. It helps business owners improve customer experience, increase their sales, and streamline operations. But it can be even more powerful when you can tap into that important data to further empower your sustainability.
That's why we offer Business Intelligence Reporting along with Enterprise level Merchant services.
With Business Intelligence reporting, you tap into all that valuable information to gain actionable insights into the health of your business. Gathering and organizing data points into clear insights allows business owners to see the potentials or failings of their processes. This information can reveal untapped revenue potential, marketing opportunities, and performance issues.
Actionable insights can guide businesses to make educated decisions based on accurate data.
Business Intelligence Reporting Tools + Unified Commerce Platform:
Unified Commerce unites both B2B and B2C systems into a single platform.

Maintain accurate data across all channels

Access to sales, customer, and inventory in one convenient cloud-based location, from anywhere.

Create personalized rewards based on customer loyalty

Tap into past purchases to create tailored recommendations.

Create customer specific discounts and offers.

Access customer attributes and preferences in addition to contact information

Real -time inventory across all channels

Order tracking and visibility across all channels.

Cross channel purchase and returns -BOPIS and BOReturn to store.

Provides insightful data analytics businesses can use to refine marketing and provide more personalized CX.

Make better business decisions based on accurate analytics.




Payment processing is at the heart of every unified commerce strategy.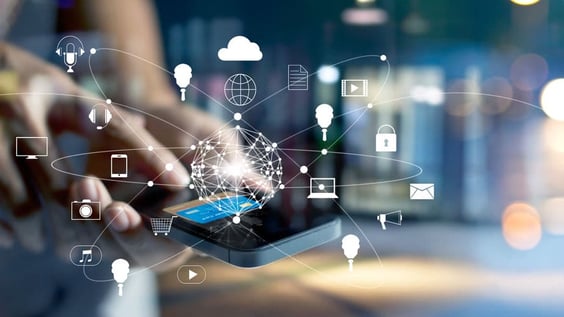 In order to accomplish this feat of unified Commerce, you must have a payment gateway designed to meet those demands. For this, merchants need a powerful and nimble processing partner to tie in with their unified vision.
True Unified Commerce requires next-gen POS coupled with an industry leading processing partner and robust Business Intelligence Tools.
We now know that Unified Commerce involves gathering a ton of data. Collecting and tracking all of this data means a new level of security is required. Merchants must consider how that data will be protected.
A feature rich gateway can accomplish everything you need for unified commerce and make it accessible on a single dashboard. But more importantly, it keeps it secure.
Just like each of your systems, channels, and information must be unified, so must your payment architecture. You can't unify all of your processes without also tying them into a secure, nimble and robust payment gateway.
You need to accept payments in store, on your website, through an app, and on social media channels. Sometimes all at the same time.
The ideal processor will possess both the experience and toolset to support this ever changing industry. And all while meeting or exceeding compliance with the ever changing security requirements.
We make sure that all of your payment processing is linked to each of the functions critical to business. And we make sure it is secure. Our payment gateway processes payment transactions with PCI Level l security with built in enhanced fraud protections.
Our solutions were thoughtfully built to power businesses. Unified Commerce Platform, robust payment gateway, nimble payment processing and BI Tools bring it all together.
When all of a business's systems integrate seamlessly, you have created a true Unified Commerce Experience.