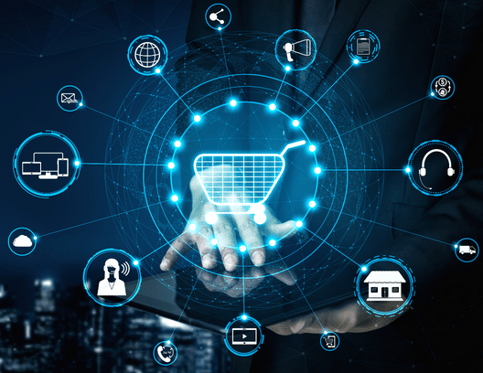 As we look forward to 2023, it's no surprise that digital shopping will dominate the retail sector. Consumers continue to do more business than ever on their smartphones and computers. According to Statista, global retail eCommerce sales are projected to grow by 56% to $8.1 trillion by 2026. 75% of repeat purchases in 2022 were done online.
If you run an eCommerce business, you need to stay up-to-date with the most recent eCommerce trends, so your business does not fall behind in this highly competitive industry.
From a stark uptick in mobile shopping to businesses implementing innovative solutions like chatbots, this year is chock-full of exciting upgrades in technology your business should accommodate. To help you prepare for 2023, let's go over some of the ongoing and upcoming eCommerce trends your business should be prepared for before going into the new year.
Mobile Shopping
Even though some consumers still prefer to use a traditional desktop or laptop to shop online, the amount of customers that prefer to shop on their mobile phones is rising quickly. 76% of Gen Z'ers shop more on their smartphones now when compared to the years prior to 2020. Comparatively, on average, 71% of the general public has shopped online via their smartphone before, and that number is only growing.
It is estimated there are around 6.64 billion smartphone users in the world today, meaning that over 83% of the entire population owns a smartphone. That number was less than 50% as recently as 2016. With such a stark uptick in mobile shopping, your site must be prepared to handle a greater volume of online shoppers. If your storefront isn't optimized for mobile shopping, that will need to be your first priority. With 48% of millennials making purchases on their mobile phones every week, creating a quality app or a mobile-friendly website is key to succeeding in 2023.
Chatbots
When consumers enter a store in-person, they can ask a salesperson or a manager if they have any questions. Online storefronts, however, haven't always offered the same luxury. Many business websites require customers to navigate through a complicated FAQ, make a phone call, or send an email before waiting days for a response to a simple question. This can not only be frustrating for customers, but it simply does not offer them the same hospitable feeling as one gets when they are greeted by a sales associate.
Chatbots are the modern solution to customer support for shops that do most of their business online. Chatbots are available 24/7 and can provide a speedy answer to common customer issues.
Rather than needing to hire sales associates to answer people's questions, the chatbot can be programmed to answer them and even make recommendations. Chatbots can be programmed to take on your company's preferred tone of voice, ensuring that your customers receive the seamless experience they expect.
Many modern businesses have already implemented chatbots to make their customer service experience more streamlined, affordable, and simple. It's estimated that 80% of businesses use chatbots as of 2020, so if your business is not using one, it's time to set one up.
Voice Search
We've seen a massive shift from typed to spoken searching. Whether you say, "Hey, Siri," or "Hey, Google," or even, "Hey, Cortana," you are probably familiar with the concept of using voice search on your phone or another device. Voice search is a popular feature on mobile phones, computers, tablets, and even gaming consoles. Loop Ventures forecasts that 75% of U.S. households will own a smart speaker by 2025.
When you look at the statistics, voice search is one of the fastest-growing eCommerce trends on the market, and consumers are happy to adopt it. Seven out of ten consumers (71 percent) say they prefer to use voice searches over text queries to perform online searches. Clearly, this feature is not going anywhere anytime soon. Ecommerce businesses should ensure that they're prepared for the changes in how people search for topics online.
Voice search affects your business because people search things differently when verbally saying their query versus typing it out in the search bar.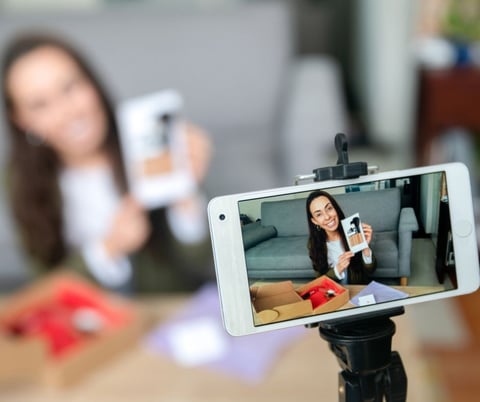 Therefore, optimize your site and its content for voice search. People usually ask clear-cut questions when performing a voice search. For example, "What is the best kind of healthy food for my dog?" You should include exact queries on your site that you believe customers might be searching. To do this, you can create an FAQ or post individual articles answering common questions. It's also important to optimize your content to make it easier for search engines to find and understand so your site shows up in search results.
Video Shopping
Videos are quickly becoming a dominant form of consuming content, and shopping is no exception. Video advertising, video product reviews, and livestreaming are rapidly changing the way consumers browse and shop online.
TikTok, with its over 1 billion active monthly viewers, can make a "hot" product go viral in a matter of minutes. Instagram, once an image-based platform, continues to reinvent itself as a video-based social platform.
Videos engage the buyer in a way that still pictures and product descriptions simply cannot. When video is used to promote a product, it has the ability to give customers a 360 degree view of the product. It feels like a friend talking to you about an item and explaining why they love it. The visually engaging nature of videos can help customers better understand products and how they can be used in practice. And this can therefore help them feel like they're making an informed purchase decision.
Emerging Payment Options
Accepting just cash, credit, and debit cards is not the standard anymore. Shoppers are changing the way they expect to pay for goods and services. That means ecommerce merchants must adapt and change the payment options they offer. We always say consumers today expect to pay the way they want.
Frictionless payments have also become increasingly popular in recent years, and that means you need a payment gateway that can deliver. Many customers prefer to use mobile wallets or one-tap payments rather than traditional payment methods like cash, physical credit and debit cards. Rather than requiring the customer to pull out a card, or put in a pin, these simple and quick transactions require only a tap, fingerprint, or click of a button.
Buy now pay later (BNPL) payment options have gained significant market share in recent years. Not only was this fairly new payment option already worth $120 billion in 2021, it is expected that number will quadruple to a whopping $576 billion by 2026.
As online shopping becomes more popular and common, consumers are also becoming more comfortable with cross-border shopping. In fact, 76% of consumers made a purchase from a country other than their own in 2021. With a global market, it's more important than ever for merchants to accept foreign currencies effortlessly through dynamic currency exchange.
If your business does not offer frictionless payments and multiple payment methods, customers who prefer these options may look to do business elsewhere.
Start Accepting Mobile Wallet and Alternative Payments Today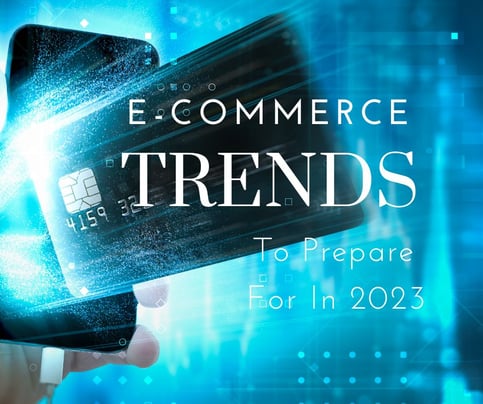 If you run a business with a digital storefront or you have a brick-and-mortar store and want to offer customers more ways to pay, it's a great idea to ensure that you accept mobile wallet payments. 43.2% of US smartphone owners use mobile payments, so don't turn away tons of customers because you don't know where to begin in setting up wallet payments.
Consumers continue to expect more convenience and flexibility. And that remains true for payment options as well. Integrating these options into your ecommerce infrastructure needn't be difficult for merchants.
Open a merchant account with MonerePay today to easily accept multiple payment methods such as credit card, mobile wallet payments, cryptocurrency, and BNPL. We're here to help you modernize your business' payment options and ensure you're ready for all of the major emerging eCommerce trends of 2023.